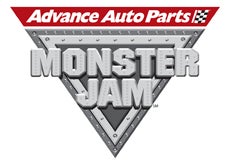 Nov 15 - 16, 2013

Doors open 1 hour prior to show time

Total Access Pass - $65, Gold Circle - $30, Supervalue - $25 Adults - $5 Kids (ages 2 -12), Facility fee: $3.00; Additional fees may apply. All tickets $2 more day of event.

Groups of 15+ and Scouts save up to 20%
Scout order form
Group order form

Non-professional cameras are permitted for this performance (35 mm or smaller, no detachable lenses). No audio or video recording is permitted for this performance.

Free
Advance Auto Parts Monster Jam
Advance Auto Parts Monster Jam, stars the biggest performers on four wheels: Monster Jam trucks! The twelve-feet-tall, ten-thousand-pound machines will bring you to your feet, racing and ripping up a custom-designed track full of obstacles to soar over - OR smash through. The 2013 touring season brings more Monster Jam excitement with the celebration of Max-D's 10th Anniversary providing a massive night's entertainment tailored perfectly for your family's budget, and these colorful, larger-than-life beasts are sure to capture the hearts of both young and old.
Featuring Monster Jam Trucks: Grave Digger driven by Randy Brown, Son-uva Digger driven by Ryan Anderson, Monster Energy driven by Damon Bradshaw, Captain's Curse driven by Alex Blackwell, Stone Crusher driven by Steve Sims and Gunslinger driven by Scott Hartsock!!
*Subject to change without notice.
Party in the Pits - $10 Adults / $5 Kids (ages 2 - 12)
Monster Jam Pit Party will be held on the arena floor from 11:30 am - 1 pm prior to the Saturday 2pm event. The Pit Party allows guests to walk the track, meet the competitors, and take photos with the Monster Trucks. Purchase a pit pass at Hampton Coliseum Box Office for $5 for Kids and $10 for Adults. Must have a Saturday 2pm event ticket and pit pass to enter. Floor access will close 15 minutes prior to the end of the pit party. 1 pit pass per person.
Total Access Pass - $65
Avoid the lines, skip the crowds and enjoy VIP access with the Total Access Pass for the Advance Auto Parts Monster Jam event at the Hampton Coliseum Friday, November 15, 2013!
Each Total Access Pass includes:
- One (1) event ticket to the November 15, 7:30PM event in the best seats in the house
- Exclusive access to drivers with a private meet and greet from 5:30PM - 6:30PM

Event Times
This event has already occured.