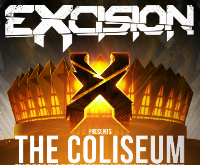 Jan 28 - 29, 2022

Doors Open 1 Hour Before Showtime

2-Day Ticket: $89. 1-Day Ticket: $59. Additional fees may apply.

Non-professional cameras permitted. Subject to change at any notice.

Free

Must be 18 or older with ID. Please stay tuned to our website for event-specific information including a list of items that are allowed into the venue. Artists are subject to change. No refunds or exchanges.
Excision & Steez Presents: Excision-Coliseum feat. The Evolution
ENTRY REQUIREMENTS: Facemasks are required at all times when inside the venue, except while eating or drinking while in your seat.
UPDATE: All previously purchased tickets will be honored for the new event dates (January 28 & 29, 2022).

The Evolution is going to be the most insane audio-visual show you could possibly imagine! Get your tickets ASAP!

Must be 18 or older with valid ID to attend this show.
REMEMBER to allow extra time for travel and parking. Parking lot opens at 4pm, doors open at 5pm, and show starts at 6pm. Those with hydration packs should use the left-most security lane to have their empty, transparent pouches searched. There will not be a coat check and umbrellas are not allowed so please plan accordingly.
---

COVID-19 GUIDELINES: Hampton Coliseum will adhere to COVID-19 safety guidelines in accordance with the Governor's Office of Virginia as recommended by the Virginia Department of Health and Center for Diseases Control and Prevention. For the safety of our patrons and employees, we ask you to maintain social distancing while inside and outside of the venue. Facemasks are required at all times when inside the venue, except while eating or drinking while in your seat. Guidelines subject to change.


---

Acceptable IDs:
US government-issued driver's license or ID card displaying a photograph and date of birth.
US or foreign government-issued passport displaying a photograph and date of birth.
Foreign government-issued driver's license with a government-issued passport or with a color photocopy of a government-issued passport with both documents displaying a photograph and date of birth.
Not accepted:
School identification cards
Consular identification cards
Expired identification of any kind, even if listed on the "Acceptable" list.
Birth certificates
Photocopies of any identification document except as noted in the "Acceptable" list.

---

Approved Bags

To provide a safe and secure environment and expedited entry for our guests, Hampton Coliseum has adopted a Clear Bag Policy that limits the type and size of bags that may be brought into the venue. The following bags will be permitted:
Clutch purse no larger than 4.5" x 6.5" (roughly the size of your hand)
Clear bags no larger than 12" x 6" x 12"
One-gallon clear plastic storage bags
Containers for medically necessary supplies or equipment, or special food items for diabetics
Double pocket hydration packs and single compartment fanny/hip packs do not need to be clear. However, the hydration bladder within the hydration pack MUST be removable, transparent, and empty upon entry to the venue.
All bags will be subject to inspection at bag check locations far ahead of the doors prior to entry. Prohibited items that are discovered at the bag check locations must be returned to the owner's vehicle or disposed of prior to entry. The venue is not responsible for items left unattended inside or outside the venue.

Guests are discouraged from bringing any bags or items that need inspection to achieve our goal of welcoming guests into the venue as quickly as possible.

---

Allowed items:
Costumes
Earplugs
Face paint
Non-professional digital and film cameras, including cellphone cameras
Bags in accordance with the Bag Policy (please see below) including double pocket hydration packs and single compartment fanny/hip packs
Lighter (one per person)
One (1) factory sealed plastic bottle of water 20oz or less
Sealed: cigarette packages, tampons, packs of gum, and chapstick/lip gloss
Non-refillable or disposable electronic/vaporizer cigarettes in factory-sealed packaging
Prescription medications subject to specific conditions (call or email Coliseum for details)
Guide dogs for people with disabilities and other service animals with current rabies certification.
Prohibited items and activities:
Totems
Flow toys of any kind
Umbrellas. Wear your rain gear in the event it rains.
Professional cameras, any video and/or any audio equipment
Full face masks or full-face coverings. Only cloth or medical face masks permitted.
Any item that can be used as a weapon
Large Chains or Spiked Jewelry
Fireworks, pyrotechnics, or any other kind of explosive
Flammable products or materials, liquids, gels, and sprays
Vitamins
Instruments
Bags not in accordance with Clear Bag Policy
Water guns, water balloons, and/or any other kind of water projectile
Glow sticks
Focus light beam devices of any kind, including laser pointers
Gas masks and tactical clothing
Flyers and stickers
Markers, pens, spray paint, or any Aerosol products
Eye Drops
Drones
Balloons, balls, or Frisbees
Stuffed animals or dolls
Tripods, monopods, and selfie-sticks
Any item that can be used as a means to disturb the peace, endanger the safety of the crowd, and/or inflict damage to people and goods
Crowd surfing
Tailgating, cooking, or alcohol in the parking lots
Glass, Cans, Cups, Coolers
No smoking or vaping allowed inside the venue. Outside smoking areas provided upstairs on the exterior concourses.
No outside food or beverage is permitted inside (exception: one factory-sealed water bottle 20oz or less)
Walkie Talkies or other two-way communication devices
Vending
---

Vaping/Smoking
Single-use disposable minis (a.k.a. cig-a-likes, or disposable e-cigarettes), in factory sealed packaging, are permitted.
Mid-sized e-cigs, vape pens, liquid refills, APVs will NOT be permitted into the venue.
Cigarettes – unopened, factory-sealed packages only.
Vaping and smoking is only permitted outside on the smoking deck accessible from the upstairs concourse.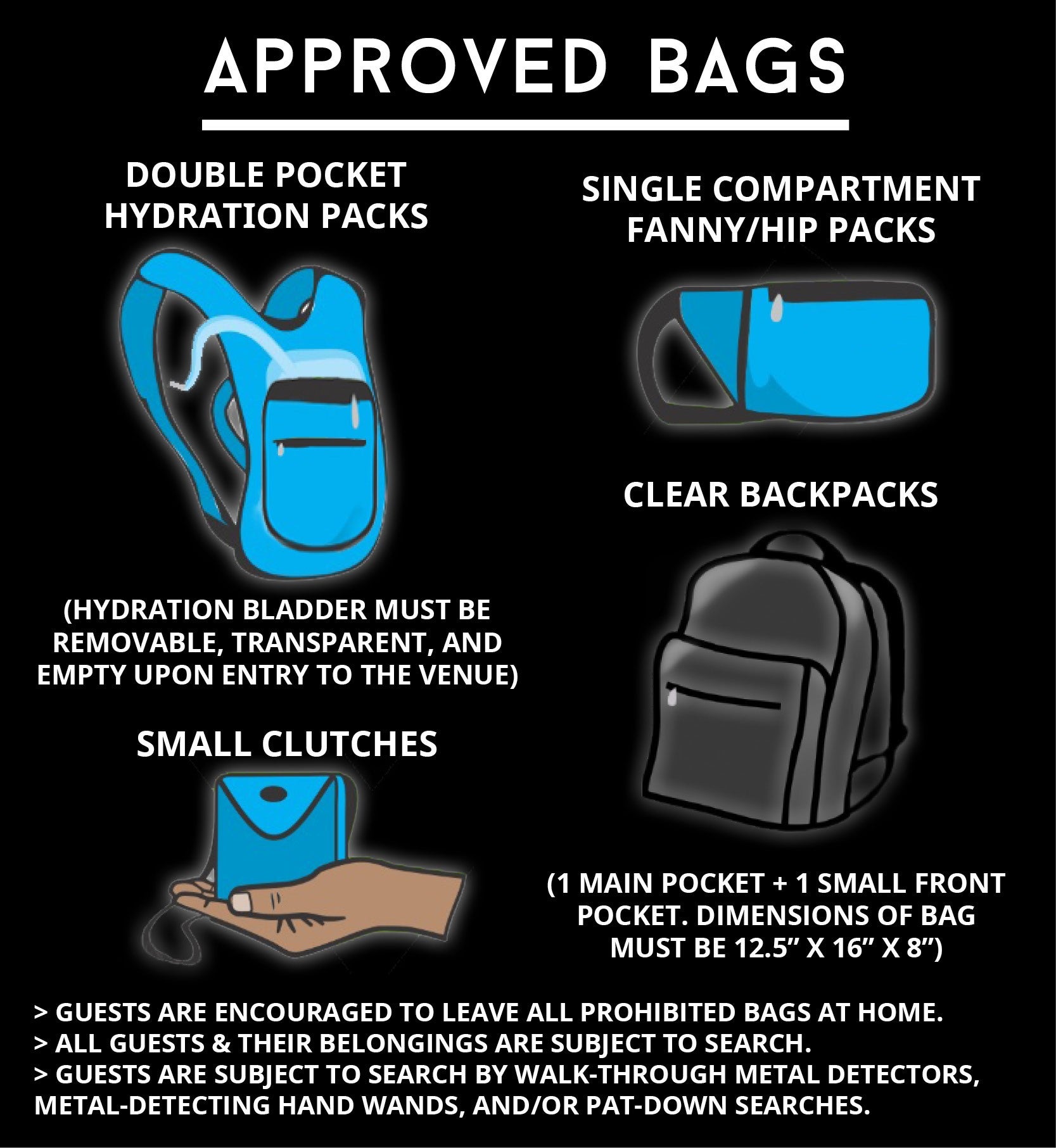 Event Times
This event has already occured.