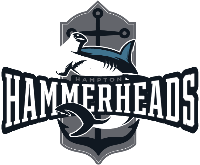 Jan 6 - Mar 5, 2023

Tickets starting at $15. Additional fees may apply.

Deadline for group orders is 7 business days before the game. Orders may be faxed, mailed, or brought in person to the Hampton Coliseum Box Office during normal operating hours. Emailed orders will not be accepted.

Groups of 10-29

No exchanges or refunds. Players/teams subject to change. Offers cannot be combined. Terms and conditions apply.
PBLA Box Lacrosse
The Hampton Hammerheads will play a fourteen-game schedule (seven home games and seven road games) from December through April.

The home opening game for the team's inaugural season will be played on Friday, January 6 at 7 p.m. vs the Trenton Terror of Trenton, New Jersey. A special Me+3 offer allows guests to purchase four tickets for the price of three! (Terms and conditions apply; valid online only while supplies last).

Individual, group and season tickets to the Hammerheads inaugural season games will go on sale to the public on Friday, November 25 at 10 a.m. Individual tickets can be purchased online beginning Friday or in person at the Hampton Coliseum box office beginning Monday, November 28 at 10 a.m. Group orders must be faxed, mailed, or brought in person to the Box Office during normal operating hours.

Hampton Hammerheads - Home Schedule
---
About Hampton Hammerheads
The Hampton Hammerheads is one of nine expansion member teams in the brand-new Professional Box Lacrosse Association, playing out of the Hampton Coliseum, in Hampton, Virginia.

About the Professional Box Lacrosse Association
The Professional Box Lacrosse Association (PBLA) is an emerging men's professional box lacrosse league in the United States. The league was announced June 29, 2022, with the first nine teams slated to begin play in December 2022.

The league intends to focus on growing the sport and drawing players, coaches, and other personnel primarily in the United States.

For more information, visit www.PBLA.com
Event Times
Friday, Jan 6, 2023

7:00 PM

Friday, Feb 3, 2023

7:00 PM

Friday, Feb 10, 2023

7:00 PM

Friday, Feb 17, 2023

7:00 PM

Saturday, Feb 18, 2023

7:00 PM

Friday, Mar 3, 2023

7:00 PM

Sunday, Mar 5, 2023

1:00 PM