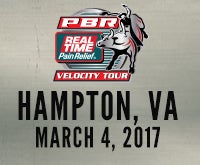 March 4, 2017 7:00 pm

Doors open at 6:00pm

$85, $65, $45, $30, $15. Additional fees may apply. Ticket prices in ALL sections are $5 more Day of show.

Free
Professional Bull Riders
The Professional Bull Riders Real Time Pain Relief Velocity Tour is the top expansion series of the PBR featuring some of the best athletes of the sport going head to head with the fiercest bulls in the country. The PBR Real Time Pain Relief Velocity Tour will bring all the high-energy sound, lighting, special effects and edge of your seat action that fans have come to expect from the World leader in the sport of bull riding.
Elite Seats (Saturday night $150 ticket)
Do you want to see the toughest sport on dirt up-close and personal? Well, there is no better seat in the house than with PBR's Elite Seats. Not only will Elite Seat holders receive premium seating, but those ticket holders will also be granted a fully immersive experience that every diehard PBR fan won't want to miss.
As an Elite Seat holder, fans will be led on a 60-minute, pre-event tour that will allow them to step out on the dirt and behind the scenes to take in everything that goes into putting on the Real Time Pain Relief Velocity Tour. Fans will also be given the opportunity to go one-on-one with World Champion-caliber bull riders as well as some of the fiercest bucking bulls in the sport. One of those elite bucking bovines will also be loaded into the chutes for fans to get an idea of what it's like to be a Professional Bull Rider standing on the chutes looking down at their bull.
Event Times
This event has already occured.