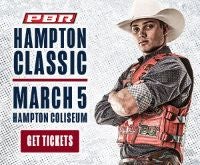 March 5, 2022 7:00 pm

Doors open at 6:00pm

Tickets start at $15. Market pricing applies to all tickets. Prices can fluctuate based on factors that affect supply and demand. Lock in your price and location today! Additional fees may apply.

Non-professional cameras are permitted for most performances (palm-size or smaller, no detachable lenses). No audio or video recording is permitted for any performance unless otherwise specified.

Free

Children under the age of 2 years are free. Child must sit on an adult's lap. Riders/bulls are subject to change. No exchanges or refunds.
Professional Bull Riders
All guests are required to wear a face mask while inside the venue, except when actively eating or drinking.
The PBR Pendleton Whisky Velocity Tour is the top expansion series of PBR featuring some of the best athletes of the sport going head to head with the fiercest bulls in the country. The PBR Pendleton Whisky Velocity Tour will bring all the high-energy sound, lighting, special effects and edge-of-your-seat action that fans have come to expect from the world leader in the sport of bull riding.

PBR Elite Experience (add-on): Doors open at 5pm; experience runs from 5:30-6pm.
COVID-19 GUIDELINES: Hampton Coliseum will adhere to COVID-19 safety guidelines in accordance with the Governor's Office of Virginia as recommended by the Virginia Department of Health and Center for Diseases Control and Prevention. For the safety of our patrons and employees, we ask you to maintain social distancing while inside and outside of the venue. Facemasks are required at all times when inside the venue, except while eating or drinking while in your seat. Guidelines subject to change.
RESTRICTED ITEMS:
- Illegal drugs or substances
- Outside food or beverages of any kind
- Areosol cans
- Wallet chains
- Sharp/spiked jewelry
- Illegal weapons
- Fireworks
- Banners with poles
- Political banners
- Professional cameras of any type (large telephoto/ detachable lenses/ tripods/ monopods/ GoPros/ selfie sticks)
- Video/ Audio recording equipment
- Personal security pepper spray/ mace
- Lasers/ laser pens/ glow sticks/ candles
- Noise making devices (whistles, horns, bells)
- Inflatable items (beach balls, etc.)