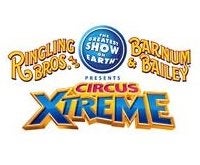 Mar 29 - Apr 2 , 2017

Doors open 1 hour prior to show time.

Starting at $20. Market pricing applies to all tickets. Prices can fluctuate based on factors that affect supply and demand. Lock in your price and location today!

Non-professional cameras are permitted for this performance (35 mm or smaller, no detachable lenses).

Free

Ages two and older must have a ticket.
Ringling Bros. and Barnum & Bailey Presents Circus XTREME
Today's performances of Circus XTREME are sold out.
Please plan to arrive early and avoid the rush. The main parking lot in front of the Coliseum is open 1 hour before show time. Also at that time, our doors will open and the Circus pre-show on the main floor begins. Come early and meet Circus performers!
Ringling Bros. and Barnum & Bailey® Presents CIRCUS XTREME. It's time for your family to be amazqed by all the X-TRAORDINARY things you know and love about America's favorite live family entertainment experience. Be astonished by UN-XPECTED circus spectacles you've never seen before and that can't be seen anywhere else but at The Greatest Show On Earth®. Get ready for an X-HILARATING adventure with X-TRAORDINARY circus artists and magnificent X-OTIC animals! It's time to awaken the spirit of Children Of All Ages and stir the imagination of your family! Ringling Bros.® Presents CIRCUS XTREME! It's time to have XTREME fun with your family! Get your tickets today!
Don't miss the All Access Pre-Show! Starts one-hour prior to showtime available to all ticket-holders. See animals up close, visit with performers, get autographs, try on costumes, and enjoy the circus fun.

Go behind the scenes at the Animal Open House. Open to all ticket-holders for the following show (for example ticket buyers attending the 1pm Sunday show will only be allowed to attend the Animal Open House at 11:30am on Sunday), one and 1/2 hours prior to showtime. Learn about circus animals, see how they live, eat, and play.
Event Times
This event has already occured.