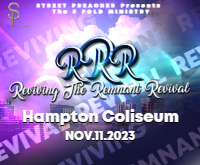 November 11, 2023 11:00 am

Doors open at 10:00am; Service starts at 11:00am

Event is free to the public

Free

There are no tickets for this event. It is free.
Street Preacher Ministries Presents: Reviving the Remnant Revival
This revival will be impactful for Hampton Roads! This revival is for those who are hurting, lost, and in need of the Savior. This service will be filled with ministers who are preaching the Word of God and we are also inviting community agencies to come and to provide resources to all those who are present.
The power of the five-fold ministry will be present:
Apostle Jaijuan Jones of Kingdom Healing International
Pastor Calvin Thompson of New Era Kingdom Church
Pastor Alexander Butler of Rhema Word Global
Pastor Larry Reece of Cape Henry Church
With special guest, Pastor JoAnne Ramsay of Speak the Word Ministries
We need your help in making sure that this revival takes place. In addition to your prayers, a love gift would be an incredible blessing to the ministry.
This event is FREE TO THE PUBLIC!
---
For more information, click HERE
Event Times
Saturday, Nov 11, 2023

11:00 AM